Ask people which city they consider to be the best in the U.S. today and the residents of Gainesville, FL will stake their claim to that title and distinction. Gainesville is the surprising number-one city in the newly published Cities Ranked & Rated, 2nd Edition written by Bert Sperling and Peter Sander and published by Frommer's. Of the 400 cities in the United States and Canada cataloged, examined, analyzed and described in the 850-page book, Gainesville ranked No. 1. Ok, so this is dated - still a great place to live.
Gainesville, the county seat of Alachua County, has a population of more than 120,000 citizens. It is near major metropolitans such as Orlando (115 Mi SE), Jacksonville (78 Mi NE) and Tampa (127 Mi SW).
3 Florida beaches part of Top 10 in U.S. Lovely beaches lie within a 90-minute drive to either coast. Glistening springs, clear lakes, nature trails, and campgrounds abound in this part of the country.
With excellent schools, from pre-school to the graduate level, Alachua County, the University of Florida, and Santa Fe College are leaders in progressive, innovative approaches to education. The University of Florida is now not only one of the best schools in the South, but it is ranked as one of the top state universities in the US.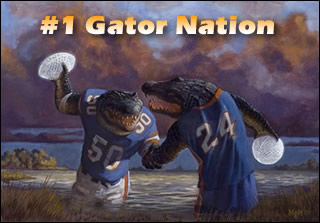 Alachua County is the home of a world-class medical community. This is due in part to the progressive Shands Hospital at the University of Florida's Health Science Center. In addition to Shands, there are two other hospitals, Columbia North Florida Regional Medical Center, and the Veterans' Affairs Medical Center. The growth in the medical community fuels the growth in Gainesville and surrounding areas.
Click below to find out what's going on around town!